We're very pleased to see the launch of the MiTek Aspire campaign this month.
Part of the Berkshire Hathaway Group, MiTek is a global provider of engineered products, software services and automated solutions to the global construction industry. We've been working with them to show case their customers and the fantastic results they are achieving.
Each client has their own unique journeys and proud stories of determination and success. In the first film of the series, we meet Alan Hampton, Managing Director of Forfar Roof Truss Ltd. Scottish born and bred, he runs a thriving family business operating out of Forfar, a small rural town where his 36 strong team has been engineering roof trusses for over 30 years.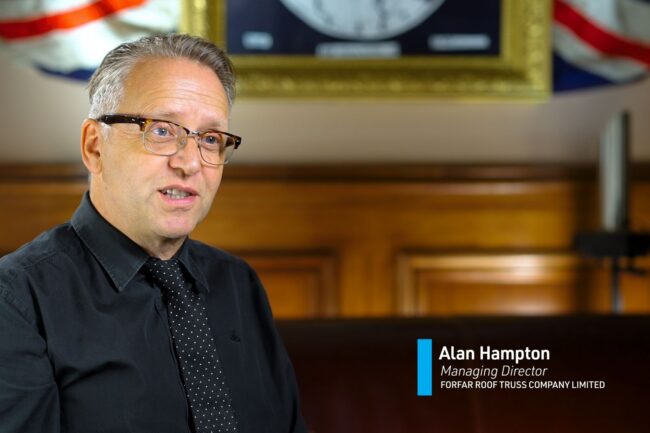 A self-claimed maverick, and punk-rocker in his formative years, Alan describes his relationship with MiTek as 'the perfect business marriage'". He talks about the pressure of 'not letting his parents down' as a sharp motivator in the early days when he was establishing the business. Now Scotland's go-to component manufacturer his focus is on giving his customers the best possible service, a mission MiTek is an integral part of.
In the second film (which will launch next month) we meet Tom Dodd, Development Director at Frame Homes. Surrounded by the beauty of the Cornish landscape Tom takes us to one of Cornwall's largest housing schemes in St Austell. With outstanding sustainability credentials, it's set to become one of the UK's largest net zero carbon homes projects.
Jimmy Close, MiTek Business Development Director, UK & Ireland said: "Capturing their stories has been really interesting. To see the impact of our work up close and personal is very humbling."
"Our clients are incredibly important to us. I think everyone would agree that in these challenging times, it's important that we take the time to reflect, and appreciate how far we've come. Our Aspire videos celebrate stories of positivity, hope and aspiration.
"I hope people enjoy watching them as much as we've enjoyed spending time with our clients filming the series."
Over the course of the next year, we look forward to bringing you more stories.
We hope you enjoy watching them and feel inspired by the essence of what they capture.